If you like wilderness adventures here are five wilderness destination ideas. They're for those times when you want to get away, very far away from the tourist crowds. If you are yearning for a true feeling like you are part of nature then these destinations may be for you.
Some offer eco tours where you get to learn more about nature around you. So be on the lookout for these if this interests you. For those who cherish the thrill of mountain climbing there's something for you too. It's the magnificent Mount Khuiten of Mongolia.
Exploring Great Bear Rainforest in British Columbia, Canada
Situated on British Columbia's central and north coast, Great Bear Rainforest is one of the world's foremost wildlife havens. It's one of many great wilderness destinations in the U.S. and Canada. As the name suggests, this massive rainforest is home to a large number of grizzly bears. It is also home to black bears and white-furred Kermode bears, also called spirit bears. While visiting this area you can also encounter a wide range of animals and birds, like bald eagles, otters, mink and grey wolves.
Great Bear Rainforest covers a total 16 million acres of land. Almost 5 million of the Rainforests land area is protected as parkland by the Government of Canada. Development and logging are prohibited in this protected region.
To reach the largest coastal temperate rainforest in the world, you need to take either a boat or a seaplane. It's quite a challenge, a real wilderness adventure to explore the Rainforest. Getting to a specific spot can take a great deal of rough hiking.
As a result its well worth the effort. Its vicinity encompasses several islands, inland river valleys and rugged coasts.They expand from northern Vancouver Island to the Alaskan border. Furthermore once here you can find yourself in complete isolation with the wilderness as your companion.
One of the highlights of a visit to the Great Bear Rainforest is the opportunity for bear viewing. The most convenient way to go about this activity is to book with a reliable tour company.
Fortunately, there are a couple of operators offering wildlife viewing tours. They usually start from Port Hardy and go into the rain-forest area. Tour companies like Great Bear Nature Tour offer guests highly entertaining bear watching. There is a photography program in addition to a comfortable stay at their ecotourism lodges.
You may also engage in other activities while visiting the Great Bear Rainforest region. Some of the popular activities include interpretative walks, bird watching and kayaking. There are also boat excursions. They can also be arranged through a local outfitter. The coast of the Great Bear Rainforest is the ancestral homeland of several of the groups. Thus there are a couple of remote Native villages dotting the coastal areas like Klemtu and Kitlope.
Here community operated tour companies offer various kinds of cultural-heritage and eco tours. Furthermore through these tours, you will have the opportunity to get to know the local people. As a result you may sleep in small huts, or go camping in the wilderness. If you want to stay close to the coast, you can choose to stay at one of the floating fishing lodges. Some of which are quite luxurious.
The best time to visit the Great Bear Rainforest area is during late spring and early fall. Thar's because of the favorable sunny weather. You can come here specifically to view the bears in the wilderness.For that reason plan a visit during early spring and late summer, going into early fall. At that time bears usually come out more often to feed at the river estuaries.
---
Never before seen footage from inside caves under BC's Great Bear Rainforest
Uploaded to Youtube on Dec 27, 2019
The Great Bear Forest, home to the spirit bear, is a vast temperate rainforest 74,000 square kilometres in size and located adjacent to the Pacific Ocean. For the first time, Jeff Turner and his team take a look at the world beneath its surface.
The underwater kelp forests are teeming with tens of thousands of creatures including seals, sea otters and pacific white-sided dolphins.
The island itself is made out of karst bedrock, soluble rocks that lead to a vast underground drainage system of sinkholes and caves. Watch as a team of underwater videographers explores the caves underneath the island, crucial to the salmon's survival and key to the entire ecosystem.
---
To visit rainforest area and admire its landscape, you can take a ferry that goes along the Inside Passage. That's a protected waterway along the coast. Aside from the Alaska and BC ferries that sail along this Inside Passage, there is also a summer-only route. Its called the Discovery Coast Passage. It allows you to see the lovely communities along the central B.C. coast within the Rainforest territory. Small ship tours are also becoming increasing popular for people who want to explore the Great Bear Rainforest's amazing coast.
Juneau Alaska – Gateway to some Great Wilderness Adventures
Alaska is a state teeming with stunning natural resources. With millions of lakes and miles of glacier ice and shoreline, it comes as no surprise that it is the place to go to experience top class ecotourism. A great journey through Alaska ideally begins with Juneau City, which is located in the state's southwestern region. As Alaska's capital, Juneau is a premier access point to all of the state's main attractions. The city is not only a place to rest and prepare for your succeeding travels, as it also has a lot in store for your visit.
Despite being surrounded by nature, Juneau still has some cosmopolitan appeal. In the city, you can find a wide array of shopping and dining opportunities. Seafood restaurants are especially popular. You should also stop by the renowned Perseverance Theater, the pride of the city. Juneau's downtown area is small enough to be traveled on foot. There's a daily bus service called Capital Transit that serves the downtown area and the other key locations in the city. Some of the notable landmarks in the city proper include the Saint Nicholas Russian Orthodox Church, Alaska State Capitol and the Alaska State Museum.
You don't have to go far for some outdoor wilderness adventures because there are lots of opportunities in Juneau. The city is also in close proximity to amazing glaciers. In fact, the Mendenhall Glacier, which is one of the most popular in the state, is conveniently located just 13 miles from the city center.
Mendenhall is about 1.5 miles wide and sits on its own lake. A number of bus services go to the Mendenhall Glacier Recreation Area on a regular basis. The area has a Visitor Center office, which offers great views of the glacier. There are also easy and interesting trails you can follow. There's the Steep Creek Trail, Photo Point Trail, East Glacier Trail. Also there's the West Glacier Trail, which leads you right to the glacier. If you can't get enough of icebergs, head out to the massive Juneau Icefield, which houses a number of fascinating glaciers such as Herbert, Eagle and Taku.
Wildlife watching is a favorite activity among tourists in Juneau. There are several tour companies that offer such experience. Get the chance to see the varied wildlife creatures that roam wild in Alaska. During your wilderness adventures you will see animals such as mountain goats, Sitka black tail deer and the black bear! Juneau residents are fishing fanatics. They highly anticipate the salmon migration every year. Whether you're a beginner or an angling expert, going on the fishing excursion in Juneau is guaranteed to be fun and rewarding.
---
Exploring Mendenhall Glacier in Juneau, Alaska
by PaddleTV
Uploaded to Youtube on Sep 22, 2017
Ken Whiting is exploring Mendenhall Glacier in Juneau, Alaska with Liquid Alaska Tours in this segment from Facing Waves. Starting the trip with a 2.5 mile paddle across a glacial lake, Ken then gets to go underground and explore the infamous ice caves.
---
Hold on for a safe but exhilarating river-running experience! Get in at the lake at the foot of the spectacular Mendenhall Glacier. Get carried away by the river and views of towering mountains, forests and wildlife. There's a lot of everything in this trip!
Begin with a scenic tour up the Mendenhall Valley. On the shores of Mendenhall Lake, don protective raingear and life jackets, and board your raft. Each raft holds up to twelve, and is rowed by an experienced guide. Or, if you're looking for a hands-on experience, join a paddle-raft team.
Glide across the iceberg-studded lake, marveling at the 1.5-mile-wide glacier. Set a course downstream. The six-mile route combines meandering stretches with Class II and III whitewater. The rapids are perfectly safe. They are just exciting enough for beginners, and appropriate for all ages. They even offer a treat for experienced rafters, too! Encounter river features such as Moon Flats and Pin Ball Alley.
Other outdoor activities you might be interested in are sea kayaking, rafting and hiking. If you want to test your vertical limits; then book a helicopter tour. Then you can get a bird's eye view of the beautiful city and its surroundings. You can also explore Juneau's surrounding waters by going on a cruise charter. As a result, cruising allows you to witness various marine creatures. Creatures like otters, sea lions and harbor seals in action. The Humpbacks and Orcas whales are also known to gather around near the city coastline. It is usually around May through September. The sight of these whales is a pure delight and something you don't want to miss.
The Clearwater River Wilderness Adventure
When you hear the name Clearwater River, the next thing you should think about is whitewater rafting! Because of its high water volume, warm temperature and fantastic scenery; outdoor sports enthusiasts consider this river to be one of the best whitewater sites in Canada.
Clearwater River is specifically situated in the Wells Gray Provincial Park of British Columbia. This provincial park encompasses a land area of over 5,000 square kilometers. Furthermore it is the fourth biggest provincial park in British Columbia. The park prides itself as being one of the premier destinations for outdoor sports. There are activities like canoeing, kayaking, mountain biking, fly-fishing, camping, hiking, and of course whitewater rafting.
Wells Gray offers some great wilderness adventures to its visitors. There are beautiful waterfalls, deep lakes, lush mountain terrain and unadulterated wilderness. The Clearwater River distinguishes itself from other rafting rivers in the region.That's because it runs 78 kilometers through the park, instead of along the highway. Compared to hiking, rafting is a better way of covering more ground in the park in a given time.
Clearwater offers a wide range of whitewater rapid grades.For that reason it is suitable for beginners as well as the more experienced. Outfitters operating in the area also offer family-friendly rafting trips that are suitable for children. Some of the popular sections of the river that are usually included in rafting trips include Tsunami, the Wall, and Buckaroo. Make no mistake about it, these rapid sections are as exciting and thrilling as their names suggest!
Aside from being action packed, a whitewater rafting trip on Clearwater River offers this; incredible canyon scenery. It exposes you to various wildlife that thrive in the Wells Gray Country.
The season for whitewater rafting on Clearwater is from first week of May to the last week of October. There are three major tour companies that provide rafting trips to visitors. Each company organizes their own tour itinerary options to excite and delight guests. These options allow you to choose a trip that suits your skill level and adventure desires. The three outfitters are Liquid Lifestyles, Interior Whitewater Expeditions, and Riverside Adventures. Liquid Lifestyles provides half-day to two full day rafting tours. The company takes guests to remote spots in the park like the Spahats Waterfall, Candle Creek, Moul, Sylvia and Goodwin.
Interior Whitewater Expeditions has been providing tours for 30 years. The company offers a wide range of excursions that are tailored for people of varying ages. The company are proven experts in providing personal attention to smaller groups and incorporating multiple sports in one tour. Riverside Adventures offers its guests not only whitewater rafting but also other activities like kayaking, canoeing. It covers different types of rafting such as moving flatwater and whitewater. Riverside Adventures specializes in offering instructional courses and special expeditions. It also operates its own fitness center and guesthouse.
---
Wells Gray Park, BC August 25, 2019
by Richard Teszka
Uploaded to Youtube on Jun 21, 2011
Recorded during 8 day kayaking/ mountaineering adventure in Wells Gray Park, British Columbia, Canada.
Expedition included exploring 102 km of Murtle Lake coastline and climbing spectacular Wavy Crest Peak and Central Mountain with its extensive alpine meadows and lakes.
---
Explore Wells Gray and Clearwater BC in the Thompson Okanagan Region with BC Field Reporter Chris Wheeler. Wells Gray is about pure wilderness and open spaces! It's the quintessential Canadian experience! North America's largest canoe only lake, Canada's most beautiful waterfalls, classic whitewater rafting, endless hiking, huge waterfalls and much more.
If you have the time to stick around after your big whitewater rafting trip; consider signing up for a relaxing and calm float trip. One that typically goes down the North Thompson River. This particular tour gives you more opportunity to witness exquisite wild creatures, flora and fauna. You'll marvel at the picturesque Wells Gray landscape. Float trips are ideal for families with small children.

Wilderness Adventures at Glacier National Park
Thinking of bringing your family closer to nature? One of the best places in North America to do just that is the Glacier National Park. It's the fourth largest park in the USA. Located in the state of Montana, it covers an area of over a million acres. It stretches all the way to the Canadian border. Together with its neighbor Waterton Lakes National Park of Canada, Glacier National Park forms the first International Peace Park in the world.
On top of the surrounding iconic glaciers, which have been in existence for hundreds of years, the national park also boasts luscious hills. It has snowy meadows, rugged peaks and magnificent lakes. If all of these sound good, then better put this national park on your travel list. Why? Because experts predict the glaciers in the park will most likely vanish by 2030 due to climate change!
There is one highlight that is certainly not to be missed in Glacier National Park. That is driving through the beautiful 50-mile Going-to-the-Sun Road. This scenic road wraps around the mountainside. It provides access to the Continental Divide at Logan Pass and the St. Mary Valley. During your drive you will get to see the best sights in the region including wildlife in their natural habitat.
Some of popular activities in the park are hiking through the luscious forests and mountains, as well as mountain biking along picturesque meadows.
There are over 740 miles of well set walking trails within Glacier National Park.
Before going on your hiking trip, drop by the park's visitor center to get necessary tips, warnings and recommendations.
For a more informative and enjoyable trip, consider booking a hiking tour around the park's back country. On this type of tour, you will be accompanied by wilderness guides. They are willing to share their knowledge about the unique ecosystems thriving in the region.
One of the popular walking sites is through the Two Medicine region, which is home to the Two Medicine Lake and Twin Falls. If wildlife viewing excites you, check out North Folk. It is populated by fascinating species like black bears, moose, mountain lions and bighorn sheep. Other incredible hiking trails are Piegan Pass, Highline Trail, Swiftcurrent Pass and Iceberg Trail.
Various types of tours are available at Glacier National Park. One of the coolest tours around is the Red Bus tour. In this historic tour, you will ride on a 1936 roll-back canvas topped Red Bus to witness the park's breathtaking scenery. The tour also includes regional cuisine dishes, glacier or lake hiking and photo journaling especially at Logan Pass. Boat tours that allow you to cruise gorgeous lakes of Glacier National Park are also highly recommended. Some of the notable lakes you can choose to explore in the park are Many Glacier, Rising Sun. Apgar and Lake McDonald.
---
Glacier National Park Intro
Uploaded to Youtube on Jul 2, 2012
Finley-Holiday Films has just completed a four-year filming project on a very special place – Glacier National Park. Here's the opening, just to wet your appetite.
---
Accommodation options are abundant in the park; from full service lodges, rustic inn to cabins and hotels. Glacier opens its doors to the public all year round. However, some of the park accommodations and tours are only available between late spring and early fall. You can also camp overnight within the park's back country area. However, you first need to obtain a back country camping permit. You can get that from any of the visitor centers or ranger stations in Glacier National Park.
Clayoquot Wilderness Resort
You do not have to go to Africa to experience a real eco-safari resort. In fact, there is one right in the wilderness of Vancouver Island, British Columbia of Canada. The Clayquot Wilderness Resort defines what a luxury eco-safari resort should be.
Set in a UNESCO reserve named Clayoquot Sound Biosphere Reserve area, the resort features 20 deluxe white canvas tents. These tents exhibit the grand African safari design. Some of the amenities in each tent includes en suite bathrooms with floor heating. Also find antique furniture, flush toilet, indoor and outdoor showers and propane stoves. There is no television or phone in the tent. That's because a stay in Clayoquot is not really about being distracted by modern technology.
The highlight of your trip is the surrounding gorgeous yet untamed wilderness. However, aside from the lodging tents, the resort also maintains two big lounge tents. They are complete with bars, billiard tables and internet access.
Arguably, the best thing about staying at Clayoquot Wilderness Resort is that it offers all-inclusive packages. Such an offer is perfect for honeymooners and for intimate family gatherings. Because it is all inclusive, you don't have to worry about budgeting during your vacation. The resort accommodation, food and beverages are covered. In addition, the resort management offers various recreational programs and activities. These activities cater to people of different age groups.
Clayoquot Wilderness Resort has designated Activities Directors who will meet with you to customize your adventure itinerary based on your preferences and skill level. The scheduled activities will also be based on weather conditions and your interests in the wild. Clayoquot's expertise lies in bringing people to remote places.
You can choose to be guided to a secluded beach where you can swim and sunbathe the whole day, and even learn how to surf. Another popular yet more rigorous trip involves going for a day hike along the "Wild Side" trail leading to the nearby Flores Island. Wildlife viewing is also a staple activity of the resort. Some of the animals that are commonly sought after are whales and black bears.
If you like aqua activities, you can also go for a kayak ride on a rushing river. Or enjoy riding on the gentle ocean to discover beautiful coves and inlets. Clayoquot Wilderness Resort also offers a range of horses for riding enthusiast. That's whether they are at the beginner level or expert.
---
Clayoquot Wilderness Resort Promotional Video – 5 minutes
Uploaded to YouTube on Mar 10, 2018
Experience "luxury gone wild" at Clayoquot Wilderness Resort, a Relais & Châteaux all-inclusive eco-safari-style resort destination located near Tofino on the wild west coast of Vancouver Island, British Columbia, Canada. Accessible only by seaplane, helicopter or boat and situated in a UNESCO-designated protected Biosphere Reserve, guests enjoy a truly remote, refined and remarkable wilderness retreat amidst one of the last remaining ancient temperate rainforests in the world.
Fashioned after the turn-of-the-century great camps, Clayoquot features 25 white canvas prospector-style tents, each richly appointed with luxurious comforts including cast iron stoves, ensuite bathrooms with heated floors, private outdoor showers, antique furnishings and luxurious linens.
Guests enjoy artfully prepared coastal gourmet cuisine, restorative spa and wellness experiences as well as an impressive menu of marine and land-based adventures including whale and bear watching, horseback riding, fishing, kayaking, yoga and heli-adventures. Truly an escape to the heart of the wild, in the lap of luxury.
---
Clayoquot Wilderness Resort     www.wildretreat.com
Located on Vancouver Island in Canada, the Clayoquot Wilderness Resort has an abundance of nature on its doorstep. The eco-safari-style resort has 25 luxury tents arranged along the water's edge and on the forested hillside.
At Clayoquot, there seem to be endless possibilities when it comes to outdoor activities. You can try fishing, mountain biking, archery, shooting, rock climbing, boating and zip lining. During your stay at the resort, you will be treated to world-class meals prepared by a top chef. To relax and rejuvenate, Clayoquot also offers spa services and massages, which are still part of the all-inclusive deal.
There are, however, only two ways to reach the Clayoquot Wilderness. The first one is to get on a seaplane and take a scenic 45-minute flight from the city of Vancouver. The second one is ride a boat for 30 minutes from Tofino. The resort usually arranges these transfers with their guests. Every year this stylish eco lodge opens its doors from mid May to the last week of September.

Climbing the Remote Magnificent Mount Khuiten of Mongolia
Are you ready to tackle one of the most remote mountains in the world? If the answer is yes, then make your way to Mongolia.
It's the home of Kazakh nomads, the stunning Altas Mountains and luscious landscapes. The magnificent Mount Khuiten borders the countries of Russia, China and Mongolia. Climbing its snow-capped summit can be one of the biggest adventures of your life.
Despite not being as high as Mount Everest, climbing Mount Khuiten is still very much challenging and fulfilling. Part of the challenge and the excitement of conquering this highest Mongolian peak, is the fact that it's not easy to access.
That is why, most of the individuals who want to reach Mount Khuiten's peak are seasoned climbers. They probably have been all over and have considerable mountaineering experience.
Trail Information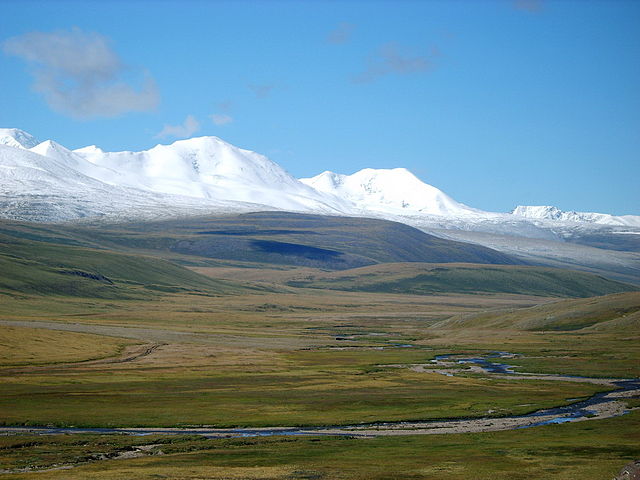 The actual ascent of Mount Khuiten may be the highlight of the trip. But the entire expedition is a memorable experience.
International flights to Mongolia land on the capital Ulaan Baatar. But the climbing trip to Mount Khuiten typically begins at Bayan Olgii. That is the western province of Mongolia.
You will then ride a jeep to the Altai Tavan Bogd range, also known as Five Holy Peaks. While doing so, expect to see a vast highland landscape that are oftentimes barren but green.
---
Winter solo ciimbing to Mount Khuiten (4374m)&Tsambagarav (4209m)
by Bambi Bb
Published on Youtube on Mar 7, 2017
Winter solo ciimbing to Mount Khuiten (4374m)&Tsambagarav(4209m).01.12.2016-01.22.2016
---
You will trek this terrain and will most likely encounter indigenous plants and animals.
At some point, you will come across the Kazakh nomads. Thry are hospitable and friendly people. They are usually shepherds who have managed to keep their traditional way of living.
In the evenings, you will sleep in traditional nomadic homes called gers. After reaching the base camp and taking a much needed rest, the next day is usually a trek to the summit of Mount Malchin, which stands at about 4037 meters.
Here, you will get gorgeous panoramas of the Potaniin Glacier. Your team will then proceed to the steeper Mount Khuiten, which has a height of 4374 meters.
Training Required
Take note that climbing Mount Khuiten requires you to finish a comprehensive 6-day training as the climb demands moderate technical mountaineering skills.
You should be comfortable in using crampons as there will glaciated climbs. You need to be in excellent physical condition. You'll be climbing with a pack weight weight of maximum 15 kilos.
Some adventure companies make use of camels or ponies to help carry loads to the mountain. Some prerequisite things to bring in this trip are hiking boots and mountaineering boots. If you're not ready to conquer Mount Khuiten's summit, you can still have the opportunity to enjoy its amazing mountain scenery by trekking to the base camp. It's a wilderness adventure in itself. The good news is there are no technical requirements needed for trekkers!
A number of outfitters offer climbing tours to Mount Khuiten. The climbing team is usually a small one. The climbing expedition will include crossing dirt roads and meeting remote farmers. Also getting to the base camp and finally, ascending to the summit.
And while all of this going on, your eyes will be treated to an incredibly stunning scenery. This journey is truly one of kind, the kind that will allow you to explore life in the remotest regions on earth.
There you have it, five wilderness destinations in two big countries that can help satisfy your thirst for fun and adventure you'll never forget. There is also the not to underestimate a different type of wilderness adventure. That's climbing mountain climbing Mount Khuiten of Mongolia. It is not for the faint hearted.
These few wilderness destinations are just the tip of the iceburg when it comes to fun and adventure. I will try to cover more in other articles as time permits. If you do visit any of these six places please leave a comment below of your experiences.
About the Author
Charles is a senior citizen who also sells domain names. He has PLR suppliers reviews on his PLR Reviewer site.