Top 10 Southern California Outdoor Adventures and Attractions
Southern California is a perfect tourist spot of giant-sized magnitude. It offers just the right combination of outdoor natural attractions, exciting sights, and modern trendy culture. San Diego and Los Angeles are the main big city attractions to explore in Southern California. Still, there are many other amazing SoCal outdoor Adventures to be had. There are many attractions you can visit to enjoy the natural beauty.
You might know Southern California for the beaches. But the breezy, mild weather, diverse culture, and hundreds of enjoyable and informative activities help make Southern California a famous tourist destination. If your job is keeping everyone entertained, or are history enthusiasts researching the heritage of the city, look no further. Southern California has the assets to satisfy your needs.
You can inhale the fresh mountain air and observe the beautiful architecture scattered throughout Southern California. Take a stroll through the captivating mist near the ocean and sense the warmth of the sun across the Pacific Coast. Admire the hypnotic hills and vineyards, witness the moon rising over deserts. But let's not forget you are in Southern California where the air is smoggy much of the year.
In this article, we have put together a list of some of the best SoCal outdoor adventures and Southern California outdoor attractions. Try to visit some of these attractions when you visit Southern California and you'll have an amazing experience.
Antelope Valley California Poppy Reserve
You can visit this valley by visiting the northern side of Los Angeles County. The California Department of Parks and reserves has been controlling and protecting the Antelope Valley California Poppy Reserve.
You will find the best California poppy blooms with vibrant and bright colors. These poppies offer a spectacular view to the visitors.
Besides the poppies, several wildflowers are uncommon in most of the areas. These wildflowers include goldfields, lupine, coreopsis, owl's clover, and cream cups. The best time to visit this reserve is mid-February to late May, in which the vibrant color of these wildflowers attracts a huge number of visitors.
Hollywood, One of the Best SoCal Outdoor Adventures 
If you are visiting Southern California for the first time, you must visit Hollywood. Taking pictures against the background of the Hollywood indication is the centerpiece of any journey to Southern California. It is located in L.A's neighborhood and has traditionally been linked with the media and entertainment industry and hosts legendary points of interest such as Grauman's Chinese Theatre.
It is a continuing to work theater with footprints of Hollywood actors situated right at the entrance. To boost your excitement to a greater point, you can schedule a few trips to see where popular Hollywood stars stay and stroll along the iconic Hollywood Boulevard, which houses the greatest selection of attractions, including Madame Tussauds Museum and several others.
On the Hollywood Walk of Fame, a series of stars embedded in the sidewalk you can place your own hands-on popular people's star. Or just wait outside the red carpet at the big premiere of a film release to witness the celebrities appear. The Sunset Strip and the Hollywood walk of fame are also the best attractions to visit.
Hollywood is the place for film and TV series tourism. Here are a few things to see related to that.
Hollywood Sign
Capitol Records Building
Hollywood Forever Cemetery
Charlie Chaplin Studios
El Capitan Theatre
Grauman's Chinese Theatre
Egyptian Theater
Hollywood Forever Cemetery
There are also plenty of museums including the Guinness World Records Museum and Ripley's Believe it or Not and Hollywood Wax Museum. If you have a car, it is worth driving to Mulholland Drive. The main attraction is the incredible views from the Hollywood Hills across Los Angeles and San Fernando Valley.
Hollywood's location is central to most other popular attractions in Los Angeles. Hollywood is part of the city of Los Angeles. The main areas of Hollywood are walk-able. You could actually walk all the way from Hollywood Blvd to Melrose Avenue. But the distance is far enough that most people would probably drive or take the bus.
Death Valley National Park
Death Valley Park is located across the border between Nevada and Southern California. This is considered the biggest national park in the United States, with a part of the Mojave Desert and several badlands, salt plains, mountains, dunes, lakes, and canyons.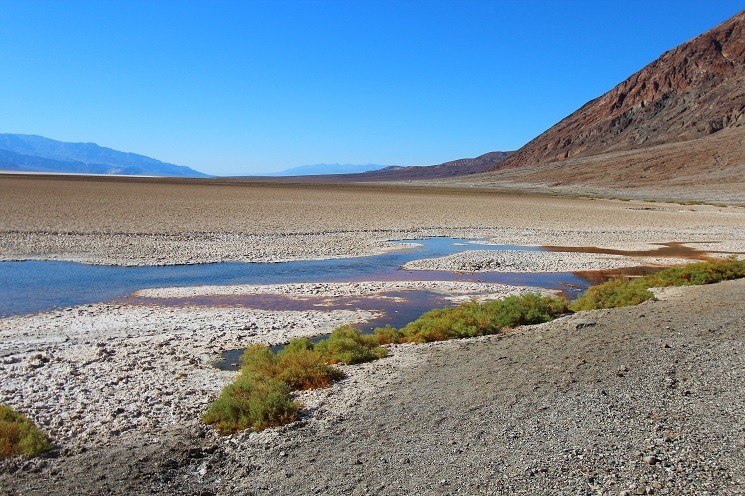 It's one of the hottest and most desolate areas in the United States, a spot with extraordinary natural mysteries and serene elegance. Visitors may pick from a range of options to visit the National Park, choosing either 4-wheel drives that can ride over desert scenery, mountain biking, and hiking on just a few paths.
The park's overwhelming majority is now a protected conservation area, home to many desert-adapted animals and plant organisms. You can hike, stroll, travel, ride, backpack, and more while you're traveling.
Death Valley is considered best for stargazing due to the darkest nights in the United States. It is so far away from big city lights and even from the smaller cities that their reflected light doesn't affect viewing the stars at night.

Palm Springs, a Desert SoCal Outdoor Adventure
Palm Springs has been a popular recreation for years. Today, this desert destination often draws tourists heading to the pool area or the nightlife. Nature enthusiasts can still consider much to explore due to the fauna-filled attractions.
This resort town is popular among tourists from all over the world due to 350 days or so of sunshine. You can also find the most amazing golf courses here and several luxurious hotels and resorts with lovely pools that are great for relaxation and soaking up some sunshine.
You can visit the Living Desert, a 1,200-acre nature and botanical preserve, or ride the aerial tram that takes guests to the 8,515-foot peak of Mount San Jacinto. At the summit, you will have exposure to more than 50 miles of hiking routes. There is an opportunity to feast at the Peaks Restaurant while experiencing breathtaking, spectacular views.
Depending on when you travel you will experience nice conditions and attend several activities and festivals. Two such events are the Coachella and the Palm Springs International Film Festival.
The City of Ojai California
This area in the county of Ventura is sometimes related to a cultural center for musicians and artists. Snuggled between charming Santa Barbara and Los Angeles, it is frequently avoided by its more prominent neighbors. Yet its groves, lush hills, and ranches are stunning and beautiful.
The city embraces an idealized Mediterranean environment. It has a vibrant community of music, fashion, health, a sustainable community, and spirituality. Many tourists travel here to see the "Pink Moment," the time when the sun falls below the horizon, and the atmosphere creates a stunning pink/purple hue.
Big Bear Lake
This Lake is a classic holiday spot in Southern California. In addition to the bright blue waters and the nearby green pines, tourists can actively participate in an almost continuous variety of activities.
The normal water activities such as kayaking, boating, jet-skiing, swimming, and canoeing. On the other hand, if you want to explore more, then mountain biking is also popular at Snow Summit.
You can also try the spectacular helicopter tours, climbing, zip-line trips, alpine water slides, horseback riding, off-road, parasailing, and more. If you want to enjoy nature, the spectacular wonders and the fresh mountain breeze with a glass of some fine wine are the best way to experience nature.
Santa Monica; Surrounded by Los Angeles and the Pacific Ocean
Santa Monica is relatively affordable, with many restaurants and shopping centers in the neighborhood of the beach. You can also visit the Santa Monica Pier which is an old-school sea waterfront residence to a carnival-like environment and a fun park.
This seaside city is surrounded by Los Angeles. The areas around it are generally expensive areas. Santa Monica is an attractive tourist location and a great Los Angeles getaway. Due in part to a favorable climate, Santa Monica became a famed resort town by the early 20th century.
Popular tourists sites include Pacific Park on the Santa Monica Pier. Also Palisades Park atop a bluff overlooking the Pacific Ocean. The famous US Route 66 also ends here in Santa Monica. There is a broad variety of guest houses, from beach-side apartments to five-star luxury hotels.
Coronado Beach
Coronado beach is next to San Diego, with a stunning coastline extending out to Hotel Del Coronado. There is no need to be a visitor at the resort to appreciate the beach. It is extended a mile and a half behind all the stunning residences on Ocean Blvd.
You can also appreciate a wide range of activities, including body surfing, swimming, boogie boarding, and swimming pool visits. If you are looking for the optimal surfing environments, travel north to North Beach or take a day trip further north to Dog Beach.
Laguna Beach, a Small City in Orange County
This Beach is the ideal spot if you're searching for a small town in Southern California. Laguna Beach is a small city in Orange County. It is located between Los Angeles and San Diego. The city offers a number of beautiful beaches, which are central, distant, large, and small.
These beaches can keep visitors entertained for days. But before seeing anything, visit the Laguna Beach Visitors Bureau. It is in the heart of the city and distributes lodging, dining, and art gallery guides.
Like diving? There is very good scuba and skin diving in Laguna Beach. There are art fairs during the year.
Here are a few more attractions in Laguna Beach.
Good mountain biking in Laguna Canyon and Laguna Wilderness Park. Laguna's mountain biking tends to be very vertical and will test your limits. Going off-roading from the fire road between Arch Beach Heights and T.O.W. can be quite a rush.
Take a hike out in El Morro canyon.
Have a picnic in one of the many beautiful parks in the Laguna area.
Laguna Beach Art Tours (artists home tours), by appointment. Get an insider's peek into the hidden world of artists with Laguna Beach Art Tours' home tours.
Crescent Bay and the beach and are two of the popular attractions. But you can also take a ride to the wild beaches of Crystal Cove State Park.
Visit one of the central art museums or boutique shops.
There is a wide range of options for dining in Laguna Beach. High-end restaurants and inexpensive options are mixed together both in the village core and along Pacific Coast Highway(PCH).
The City of Laguna Beach is an excellent launching point for other activities in the area you might want to visit. Disneyland is 25 miles away. Hollywood is about 60 miles away.
Joshua Tree National Park
This area is a real masterpiece in the mountains. The Joshua trees add a kind of wonder to this usually lunar-like environment.
See massive rocks and mountain ranges that produce unusual forms that seize the mind. A variety of attractions are in the park which covers 800,000 acres.
The 5,000-foot range of the Keys View, the Cholla Cactus Garden, is spread out over the mountain to the peaks below. Remains of the old Keys Farm and the massive palms of the Lost Palms Oasis are the main attractions of this area.
If you're going to stay here for a night, you might want to try staying overnight underneath the stars and trees.
3 more Southern California Outdoor Attractions
Here are three more Southern California outdoor attractions that are fairly off the beaten trail. Mission San Juan Capistrano is located on the way to San Diego if you take the coast route, Pacific Coast Highway.
The L.A. County Arboretum and Botanic Garden is inland in Arcadia across from Santa Anita Race track. If horse racing season is active at the racetrack it is something you might be interested in. Out further, in the Mohave Desert, are the remains of Calico Ghost Town. It's the actual remains of an old mining town of the 1800s with a few of the original buildings still standing.
Mission San Juan Capistrano
Mission San Juan Capistrano, is a historic landmark and museum, in Orange County California. Founded over 200 years ago, it was the 7th of 21 missions statewide. There still remains a chapel where Saint Serra once celebrated Mass. However, the mission has been damaged over the years by earthquakes and likewise, much of it restored.
Mission San Juan Capistrano was originally built as a self-sufficient community. Spanish Padres and Native Americans built it. The mission was a center for agriculture, education, industry, and religion. It is also famous for the Annual Return of the Swallows.
Here are some of the attractions of the mission.
The two original bells that once hung in the Great Stone Church which was completed in 1806 and destroyed in an earthquake in 1812.
Visit the newly conserved Serra Chapel, the only standing church where Father Serra is known to have said Mass.
See one-of-a-kind artifacts, treasures, and paintings
Considered the American Acropolis, see the ruins of the Great Stone Church.
Relax and enjoy its peaceful and stunning gardens.
Dine and dance under the stars at their summer concerts.
Entrance tickets vary in price but currently in 2020, cost $14.00. Guided tours start around $35.00 per person. Mission San Juan Capistrano is the "Jewel of the California Missions" and welcomes over a quarter million visitors every year.

Los Angeles County Arboretum and Botanic Garden
Los Angeles County Arboretum and Botanic Garden is a historical site nestled into hills near the San Gabriel Mountains. It is located in Arcadia, California. Arcadia is a city in Los Angeles County, California located about 13 miles northeast of downtown Los Angeles in the San Gabriel Valley. It is at the base of the San Gabriel Mountains. The Arboretum's modern history began in 1875. That's when Elias Jackson "Lucky" Baldwin purchased Rancho Santa Anita.
The arboretum's plants are grouped by geography. There are gardens for South American, Mediterranean, South African, Australian, and Asiatic-North American plants. Plus there are many other displays which include the Aquatic Garden, Meadowbrook, Demonstration Home Gardens, and Garden for All Seasons. There is also a Prehistoric and Jungle Garden and a Herb Garden and more.
According to the legion, the arboretum is reported to be haunted. The Queen Anne Cottage in particular. Some have claimed to see the ghost of Lucky Baldwin or one of his wives. Visitors have claimed hearing moaning coming from the house (where Lucky Baldwin's wife also died of cancer). Some visitors report odd cooking smells and seeing various strange anomalies walk the gardens at night.
Tickets to the Arboretum vary in price. In 2020 from free for children under 2 to $17 for teenagers to adults.
Calico Ghost Town – an Unusual SoCal Outdoor Adventure
Calico is a ghost town and former mining town in San Bernardino County, California. It is located in the Calico Mountains of the Mojave Desert in Southern California. The town was founded in 1881 as a silver mining town. It has been converted into a county park named Calico Ghost Town.
Walter Knott purchased Calico in the 1950s. It was architecturally restored. All but the five remaining original buildings still look as they did in the 1880s. Calico received California Historical Landmark #782. In 2005 it was proclaimed by then-Governor Arnold Schwarzenegger to be California's Silver Rush Ghost Town.
Nowadays the park operates mine tours, gunfight stunt shows, gold panning, and several restaurants. It also operates the historic, 2 ft 6 in narrow gauge Calico & Odessa Railroad, a number of trinket stores and a Mystery Shack. The park is open every day except Christmas and requires an entrance fee. Additional fees are required for some attractions.
Overnight camping is also available. There are special events held throughout the year. There is the Civil War Days Historical Reenactment on President's Day weekend and Spring Festival in May. In early October there are Calico Days, and a Ghost Town haunt in late October.The Calico Cemetery which holds between 96 and 130 graves has had burials as late as the 21st century.
Above you have a nice selection of Southern California outdoor adventures and attractions. Most of these are away from the hustle and bustle of the big cities.
Experiencing these SoCal outdoor adventures will give you a good perspective of this part of California. You'll experience a bit of nature and enjoy a more varied outlook of Southern California than most tourists that make the big cities their main attraction.