3 Best Places to Visit in Thailand for First-time Travelers
By Mae Angeli S. Rada
Thailand is known as the land of a thousand smiles and the land of the free. Being new in traveling, Thailand was the third country I have visited. And I must say, the "thousand smiles" tourism campaign was an understatement.
It is also known as the land of the free. The people of Thailand are proud of their cultural heritage. It is the only country in the Southeast Asia region that was not occupied by foreign invasion. There are three best places to visit in Thailand when you go there as a first-time visitor.
Thailand is a culturally rich, colorful, and welcoming country. For just a brief period of eight days, visiting has made me appreciate their rich culture, heritage, and tradition.
There is no shortage of things to do, to eat, and explore in Thailand. A hub for travelers where people from different parts of the world meet to mingle. They can have fun, and share their unique life and travel experiences.
To genuinely experience this impressive country, a new traveler must visit these three top destinations in Thailand.
1. Bangkok – a Vibrant City Full of Fun and Life
Bangkok, the capital city of Thailand, is a vibrant city full of fun and life. Like any major city in the world, it is bustling with energy and spirit.
Buddhism is the dominant religion in Thailand, and Bangkok is synonymous with what travelers dubbed as "temple run." Several majestic temples to celebrate Buddhism are open for tourists. You can visit three to four temples in a day, including the Wat Benjamabhopit or the Marble Temple.
There's also Wat Arun, the world-famous reclining Buddha in Wat Pho, and the Grand Palace. Although filled with tourists, the ornate details, and grand designs of these temples are definitely worth visiting.
When paying visits to temples, especially at the Grand Palace, make sure you are appropriately dressed. That's because they won't allow entry to visitors wearing revealing clothes. I made a blunder by wearing my ripped jeans. Fortunately, there was a stall outside the Grand Palace gate selling clothes.
To satisfy them I turned it into a long skirt to be able to enter. Since these temples are the Thais places of worship, be mindful and respectful of their religious practices and traditions.
During my stay, I also enjoyed Bangkok's bustling night markets. They are filled with many and affordable merchandise. You'll find clothes, home decors, electronic gadgets, and beauty products. Night markets are also teeming with food vendors selling a variety of food items. You can buy fresh tropical fruits, fruit juices, mango sticky rice, street crepes, and the famous pad thai.
To complete my Bangkok experience, I took an adrenaline-filled Tuktuk ride. I had dinner at one of the tallest buildings in Thailand. It was overlooking Bangkok's glimmering city. It also had an aerial view of the often-photographed highway interchange.
When walking in Bangkok's streets and mingling with its people, one can immediately sense the welcoming hospitality of the Thais. Although most of them do not speak English fluently, when you ask them for directions or when you ask them something, they will go the extra mile to accommodate and help you.
2. Ayutthaya – with Historic Archaeological Sites and Ancient Buddhist Temples
An hour away from Bangkok, Ayutthaya, Thailand's old capital city, is a UNESCO world heritage site. One can explore vast historic archaeological sites and ancient Buddhist temples. They are testaments to the grandeur of the old city before it was attacked and destroyed by the Burmese in the 18th century.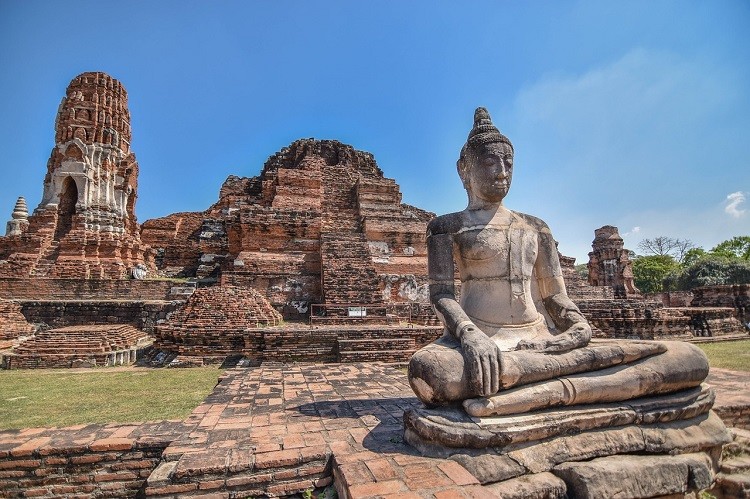 I did a one-day guided tour in Ayutthaya through a travel agency. It was an enjoyable experience. I was able to take in information about the place. I also learned some of its histories because of a helpful tour guide who explained the sites we visited.
When in Ayutthaya, you must not miss visiting the Ayutthaya Historical Park. Located in the center of the city, this most visited site in Ayutthaya is a testament to ancient Thailand's former glory. Ruins of massive temples are the mark of a previous empire dedicated to craftsmanship and religion. These ruins reflect the Thais' dedication to Buddha and his teachings.
One of the most recognizable symbols in Thailand is the Buddha head lodged in the roots of a Banyan tree in Wat Mahathat. Though the real story behind this has so many versions, according to Ming, my travel guide, the most believable, is when the Burmese attacked Ayutthaya.
Some Burmese men tried to steal the head of Buddha in one of the statues. However, as they were carrying it away, the stone head became so heavy that they had no choice but to leave it beside a Banyan tree. Over the years, the roots of the tree grew, therefore, enveloping the Buddha's head.
You can also squeeze a visit to the Ayutthaya Floating Market to do some souvenir shopping, try some of Thailand's authentic sweets and desserts, and see some elephants. Although elephant rides are available for a few dollars, I do not recommend such activity due to the practice of animal cruelty in that form of tourist attraction.
The authentic Thai milk tea is a must-try at the Bang Pa-In Palace. Bang Pa-In or the Summer Palace, is where the Thai royal spends their summers. Some areas are restricted, but most of the palace grounds are open for tourists. Lavish structures and ornate buildings are all over the complex, making it a very photogenic backdrop for visitors.
I ended my day in Ayutthaya with a sunset river cruise at the Chao Phraya river, feeding mudfish, watching the gorgeous golden dawn reflecting the tower of the stupas, and spying monitor lizards in the river bank.
3. Phuket – One of the World's Best Beach Destinations
Phuket is a whole new Thailand adventure; it boasts one of the world's best beach destinations. I flew from the Don Muang airport in Bangkok to Phuket on my fourth day in Thailand to see the renowned Phi Phi island. Phi Phi island became known to the world because it was the setting of the movie The Beach, one of the highest-grossing films in 2000.
I stayed in one of the budget-friendly accommodations in the Patong Beach area. If you love to party, dance, and enjoy the night away, Patong Beach is the perfect place for you. Patong Beach is known for bars with different themes and a variety of entertainment offerings catering to both locals and tourists.
I am more inclined to do some quiet and sober stuff, enjoy walking on the streets at night, people watch, hop from one shop to another and walk by the beach at night. During one of these walks, I happened to pass by a marketplace selling a lot of authentic Thai food, including insects, beetles, and worms. Not so adventurous, I settled for a mango crepe instead, and upon returning home, regretting not to have tried. I wish I were more adventurous since eating exotic food is a once in a lifetime experience.
I was lucky to visit Maya Bay on the last day it was open before it was closed for rehabilitation. Before entering the Maya Bay shores, the impressive rock formations will welcome you to one of the most stunning beaches you will ever see.
The day tour was teeming with tourists. However, I was amazed by how Thailand was able to preserve the natural resources in the area, including the crystal-clear beach, pristine shores, forests, and waterfall.
Part of the tour was the visit to the idyllic monkey beach, a small island home to troops of monkeys that would excitedly welcome you upon disembarking your speedboat.
Another fun activity I enjoyed was snorkeling in the clean, crystalline waters of the Pi Leh lagoon and swimming with the colorful tropical fishes.
Old Town Phuket is a must-see if you are in Phuket. You can walk the quaint and charming streets and admire the colorful Sino-Portuguese style houses and establishments.
There are boutique stores, coffee shops, and restaurants that are truly picture-worthy. You can sit in one of the open cafes while you relax and enjoy your authentic Thai milk tea or a freshly brewed coffee. Interesting graffiti also dotted some of the walls in Old Town, adding to its allure and appeal.
The Best Places to Visit in Thailand made a Lasting Impression on Me
One can never forget the experience of traveling in a country where language, traditions, and cultural differences can be a barrier. My time in Thailand proved that differences are not a hindrance to appreciating a country that is so different and yet so similar from my own.
As a first-time traveler, my Thailand adventure helped me view the country and the world in a new and better perspective. Getting to know Thailand and its people for a short time has inspired me to uphold and preserve my culture and traditions. I love that wherever you go in Thailand, their day to day lives are a reflection of their rich heritage. Thailand is truly amazing.